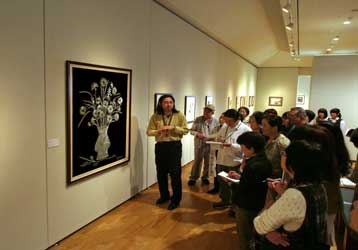 Promote Fine Art Lithuanian Folk Art in your community
Help promote Ursula Astras' Lithuanian Fine Art at your gallery, museum, organization or social network. These centuries-old traditions and art forms have withstood the test of time and culture. Now, you can become an advocate and promote Lithuanian Folk Art in your community.
Display it (limited originals still available). What better way to connect to the artist and European culture than to host a limited time show in your gallery.
Have a member of the Astras family conduct how-to-classes (straw or egg art). Bring additional attention to your gallery or show with this hands-on experience for young and old alike.
Buy fine art prints or images for display at UrsulaAstras.ImageKind.com. These high-quality prints show the depth of detail of the original and with some finishes are even more stunning.
Add us to your social networks (see sharing buttons below, under images and on imagekind.com). Find out who's talking about it in your circle, or better yet introduce them to it. Lithuanians of all generations, their descendants, families and friends will welcome the connection to the global culture.
Over the years in our workshops and exhibits, our family has reconnected with old summer camp friends, world travelers, distant relatives and acquaintances. We have forged many new relationships and welcome the chance to do it with you, too. Please tell us more about your interests on our contact form or give us a call at 616-458-9200. Connect with your global culture.