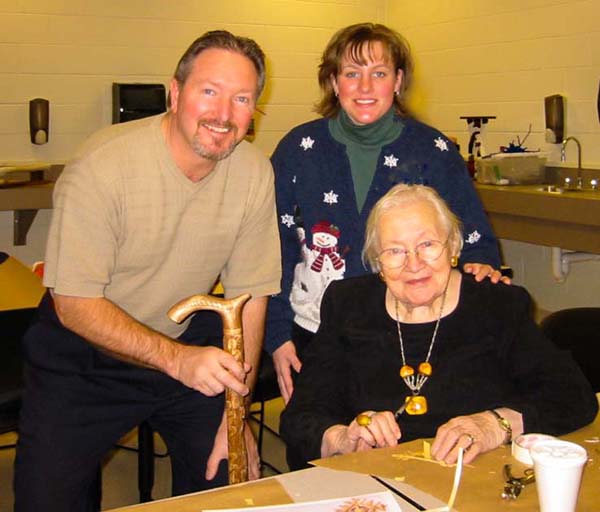 Lithuanian Folk Art Classes for everyone
We'd love to show you how to create these beautiful, Lithuanian straw Christmas ornaments or Easter eggs (see Egg Dying Instructions). Our workshops can bring additional attention to your gallery or organization. Young and old alike enjoy the hands-on experience.
An experience your group will never forget
Our folk art workshops can run for an hour and one-half to two hours depending on the group size and composition. The materials and tools are very inexpensive. Many participants have completed more than one straw ornament or Easter egg in the allotted time and have step-by-step instructions to repeat it at home. Our workshops have been featured in various Chicago newspapers for 40 years. See our video from World Lithuanian News (in Lithuanian). In our workshops, you will learn about or receive:
Examples of Ursula's exquisite designs and artwork
Lithuanian Christmas or Easter traditions
Step-by-step process that you can repeat at home
Templates of designs
Guidance by an experienced member of the Astras family
Tool kit and materials (optional at a price)
Our rates vary based on location, type of venue, number of participants and travel. We offer a discount to non-profit organizations.
Connect with your global culture
Over the years in our workshops and exhibits, our family has reconnected with old summer camp friends, former classmates, world travelers, distant relatives and acquaintances. We have forged many new relationships and welcome the chance to do it with you, too. Lithuanians of all generations, their descendants, families and friends will welcome the connection to this beautiful global culture, where Ursula Astras has transformed folk art into fine art. Please connect with your global culture.
You can see examples of Ursula and Don's Lithuanian straw ornaments at Frederik Meijer Gardens & Sculpture Park in Grand Rapids, Michigan during their Christmas Tree Exhibits.
Sign-up for Folk Art Workshops
Learn how to create beautiful straw Christmas tree ornaments or Easter eggs, a centuries-old folk art tradition to pass on to your families.