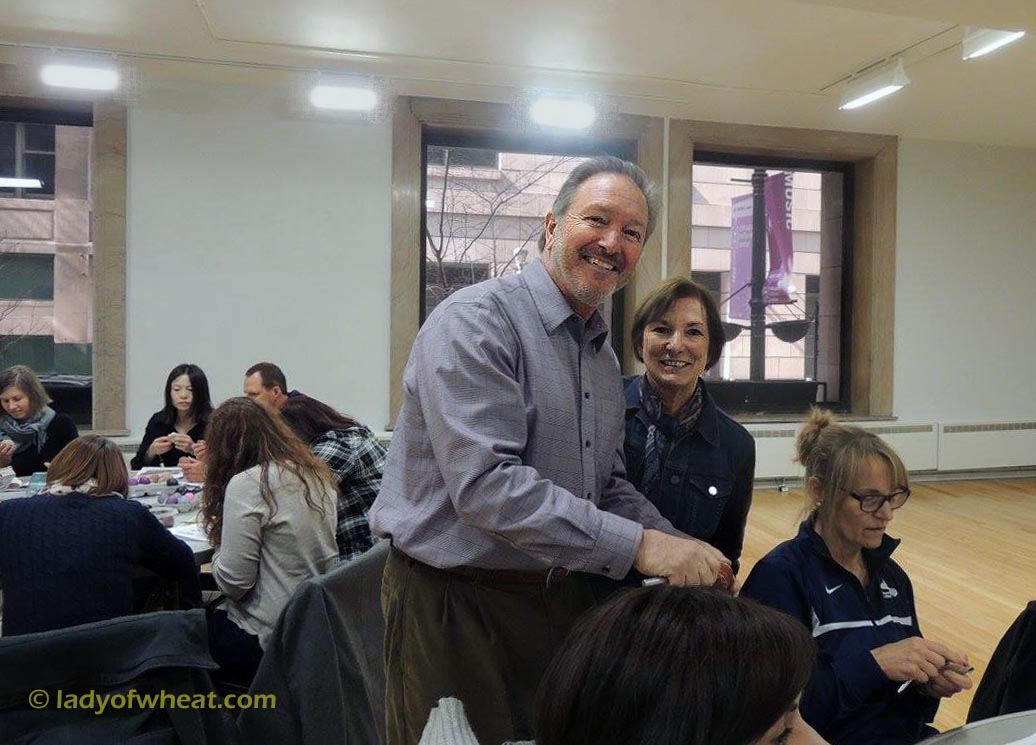 Sponsored by Chicago Sister Cities Int'l and Balzekas Museum
The Traditional Lithuanian Easter Egg Decorating Workshop went well according to the sponsors, Ieva Dilyte from Chicago Sister Cities International and Rita Janz and Stanley Balzekas from the Balzekas Museum of Lithuanian Culture. The students were mainly women, about half of Lithuanian descent. Don Astras gave the three young men more masculine designs to use. Kathy Astras dispensed masking tape to wrap the tips of the X-acto knives before the session began.
Informal Lithuanian Easter Egg Decorating Workshop atmosphere helps students learn
After the short introduction by Stanley Balzekas, Don started demonstrating the techniques that he had learned from his mother, Ursula. Since there were only two tables, he went back and forth showing the variations of the potato peeler and pencil methods. We could see the students gravitating to one or the other, but trying both as he revealed shortcuts.
As with any other art form, the more skill one had – the better the outcome and light strokes produced construction lines that could be reinforced latter. The potato peeler method allowed for a rhythm of making strokes in one direction while rotating the egg. Then, returning and from the other direction and connecting the lines. The edge of the blade provided more subtle shading; whereas the back of the blade gave a bolder and deeper etch. One could hear the difference in pressure. Only one student cracked an egg.
It was not long before the students were engaged in their new art and chatting away at the tables. Some were deep in concentration, while others would look away to respond to the conversations. Before long, Don and Kathy were just checking on progress and spending time to get to know who the students were. Most wanted to deepen their connection to the Lithuanian culture or learn the folk art as an experience that they could repeat at home. We believe that they had accomplished that before it was time to go. We could see that the students had enjoyed themselves, learned the art and made new connections among their tablemates. We invited them to visit this website for more information about Ursula, her art and family.
Ieva and Rita closed the workshop with invitations to upcoming events.
More photos on Facebook
See more photos on the Facebook pages of Balzekas Museum and Lady of Wheat.
Save the date for Straw Christmas Ornament Demonstration on April 30, 2016.
Join Don and Kathy Astras for a Straw Christmas Ornament Demonstration at the Lithuanian Day Celebration at SS Peter & Paul School in Grand Rapids, Michigan on Saturday, April 30, 2016. More details to follow on the next blog post.