Don and Kathy Astras demonstrate Lithuanian straw Christmas ornament making techniques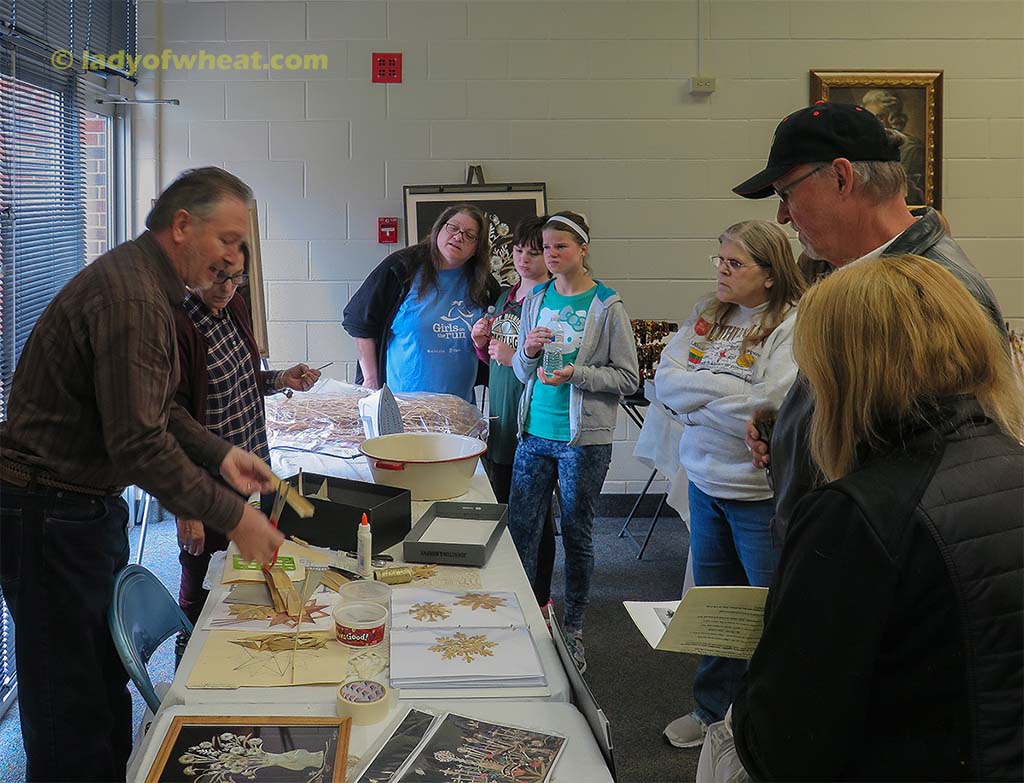 The Lithuanian Day Festival at Saints Peter and Paul Parish Center in Grand Rapids, Michigan on April 30, 2016 was a huge success. It attracted exhibitors, families, performers and vendors from Michigan, Indiana, Illinois and Ohio. Don and Kathy conducted Straw Christmas Ornament demonstrations using wheat and rye straw in two sessions. Kathy cut, soaked, ironed and curled the straw segments. Don adhered them to masking tape to make veneers, which he trimmed to match the template for a five-point star used as a Christmas tree topper. A larger version of the star ornament can be seen at Frederik Meijer Gardens & Sculpture Park during their International Christmas Tree Exhibit, as well as those made by Ursula Astras.
LadyofWheat.com exhibits Ursula Astras' straw paintings
Don and Kathy also answered questions and displayed laminated and mounted reproductions of Ursula Astras' straw paintings. They met friends, made introductions and connections to influencers in other communities and enjoyed the food and camaraderie of the event sponsored by Lithuanian American Community of Grand Rapids.
If you missed our exhibit, you can always order fine-art prints of Ursula's straw paintings from her gallery at UrsulaAstras.ImageKind.com.
We also plan to conduct a workshop on how to create your own straw Christmas ornament at the Balzekas Museum of Lithuanian Culture in Chicago in early December 2016.