Learn Traditional Lithuanian Easter Egg Decorating (Margučiai)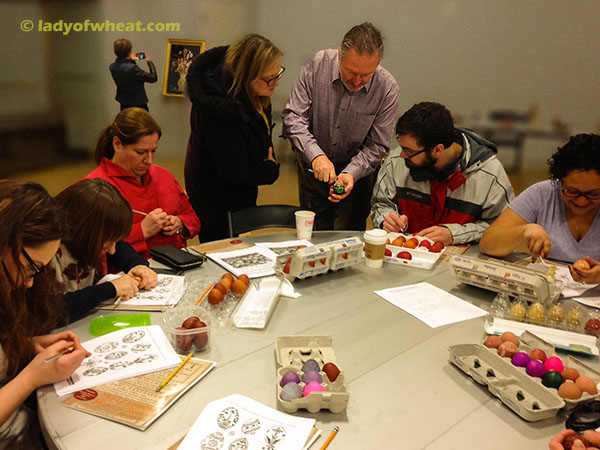 Please join us at the Balzekas Museum of Lithuanian Culture for a Traditional Lithuanian Easter Egg Decorating Workshop to learn the ancient art of etching eggs or margučiai. This annual workshop had been conducted by Ursula Astras for 37 years. Now the Astras family returns to show the secrets of one of the most prolific Lithuanian folk artists. Discover how you can create unique designs in this Easter Egg Decorating class using the traditional onion skin dye with your friends and family.
Workshop by Don Astras
This workshop will be taught by artist Don Astras, Ursula Astras' (Astrienės) son. Learn more about Don Astras.
Dying instructions for Easter egg decorating
To ensure your eggs are dark enough, colorfast and ready-to-etch, please follow this recipe and bring six dyed hard-boiled eggs:
Soak several handfuls of onion skins overnight (in cold water). Two cups of water will make about one cup of dye. Boil mixture 15 minutes. Then remove onion skins and strain the solution. Add desired number of eggs (at least six) to the dye solution. Bring to a boil to hard-boil eggs. Simmer 10 to 15 minutes. Allow solution to cool before removing eggs.
The longer the heating period or the greater amount of onion skins, the darker the color. If you remove eggs at different intervals, the color varies from a tan to a rich brown. Small size eggs are stronger. Larger eggs, while more fragile, lend themselves better to a more elaborate design.
To obtain various dark shades, place onion-dyed eggs in commercial Easter egg dyes or food coloring. Green and purple dyes give very interesting effects.
When the egg has dried thoroughly, place a dab of shortening on a soft cloth or paper towel and rub the egg to add luster and protect the color.
Saturday, March 25, 2017 from 10 am
Light refreshments will be served. The workshop will take place on Saturday, March 25, 2017 from 10–11:30 am. Recommended for adults and children eight years and older.
Registration information
Fee: Museum members $10. Non-members $15; Children under 12 $5. Fee includes: instruction sheet, pattern sheet, etching knife and free admission to the Museum.
Free Parking: available in the back of the Museum.
For questions or additional information, call (773) 582-6500 or e-mail info@balzekasmuseum.org.
Please connect with your global culture and attend or promote this event to your families and friends. We would love to see you there and show you how to keep the Lithuanian folk art alive.