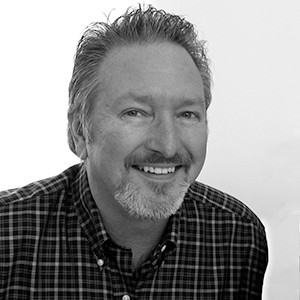 Artist, Web Designer and Instructor
Don (Donatas) Astras, Ursula's son, followed in her footsteps taking up art at a young age, often accompanying her at demonstrations and workshops, and participating as translator and instructor. Don designed the Lady of Wheat website, as well as others for his clients (see Tempest, LLC.).
Personal Life
Don was born in Grand Rapids, Michigan. As a child, he was Ursula's apprentice learning how to construct straw braids and Christmas ornaments, as well as to etch Easter eggs using natural dyes. After serving in the Marine Corps, he took formal art training and life drawing courses at Grand Rapids Community and Aquinas Colleges. He received degrees in Business and Management.
Don loved to draw in pencil, ink and pastels, as well as work with wood. He also helped Ursula stage her art shows, served as her critic and passed on the Lithuanian folk arts to his children and to the public. Don has taught thousands to design and etch eggs at the Balzekas Museum of Lithuanian Culture in Chicago, as well as create straw Christmas ornaments at Camp Dainava, the Grand Rapids Public Museum and Frederik Meijer Gardens & Sculpture Park. Don has five children, who have also accompanied him at Ursula's events (see more at Folk Art Workshops).
Career
Don worked in sales, marketing and consulting early in his career. It wasn't until he became involved in desktop publishing, that he flourished – winning design awards for his team's commercial works. Then, he started his own marketing agency, which just celebrated its 25th anniversary in 2015.
Don has also taught design and marketing skills at Grand Rapids Community College and Grand Valley State University, as well to his clients at Tempest. Recently, he returned to his alma mater, Aquinas College, to teach project management and entrepreneurship.
Fun Facts
Don was the second youngest of four siblings.
Don attended mostly Catholic schools (Saints Peter & Paul, West Catholic HS, St Anthony's HS in Kennebunkport and Aquinas College).
Don served in the US Marine Corps Air Wing after high school.
Don has the patience and enthusiasm to teach his grandchildren to draw and build birdhouses.
References
Straw: Christmas Straw Ornament Workshop
Eggs: Traditional Lithuanian Easter Egg Decorating Workshop, World Lithuanian News Interview Video 4/8/2017 (in Lithuanian)
Free download of Lithuanian Heritage Magazine article
You can now download 'Making Straw Christmas Ornaments (šiaudinukai)', the feature article that appeared in the November/December 2016 issue of Lithuanian Heritage Magazine.
Don can help your group or organization learn these Lithuanian Folk Art skills. Contact us today for more information about how to create your own straw or egg art. Also, consider pairing a showing of Ursula's remaining art along with a Folk Art Workshop. Connect with your global culture.