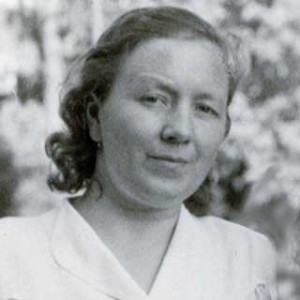 Lady of Wheat
Ursula Astras (Astriene), after whom the Lady of Wheat website is named, designed art in straw more prolifically than any other artist in the US or Lithuania (see Vilkaviškio rajono savivaldybės viešoji biblioteka). Although her works and motifs are in the Lithuanian tradition, her style is distinctly innovative and unique. She has transformed folk art into fine art. She is renowned for her straw paintings and Christmas ornaments using the applique technique, as well as decorated Easter eggs. Private and institutional collectors have acquired her art nationally and internationally.
Personal Life
Ursula Astras (nee Lukosevicius) was born on a farm in Bartninkai, Lithuania in 1912. Her mother taught her to construct the traditional designs of straw braids and mobiles with strings running through them, as well as to etch eggs using natural dyes to share at Easter. After graduating from agriculture school in 1932, she worked as a cook and housekeeper. In 1944, she fled to Germany with her brother and sisters because of the returning Soviets, who began nationalizing all large farms. Already in 1941, the Soviet government sent thousands of Lithuanians to labor camps in Siberia, including Ursula's brother, Kazys.
While in the same refugee camp in Regensburg (Bavaria), Germany, Ursula married Stasys Astrauskas (Stanley Astras) in 1946. They emigrated to the US in 1949 and settled in Grand Rapids, MI, where they were sponsored by the Gelwich and Kucinskas families.
In the early 1950s, Ursula created new art forms of intricate snowflake or geometric design by pressing wheat or rye straw on to a masking tape backing and gluing these veneers together (straw applique). Ursula passed on her new and traditional methods to her children: Mary, Tony, Don and Alberta, who have helped her in teaching those processes to others including their children.
Career
As a little girl in Lithuania, Ursula used to run about with other children in the wheat fields picking the stalks and weaving long plaits, which adults later sewed into straw hats. There, she learned how to cut and flatten wheat shafts and prepare inlay designs on boxes. After coming to America, she continued to make straw ornaments, especially the hanging mobiles (sodai) that have become popular Christmas tree decorations among Lithuanians. Once she discovered masking tape, it revolutionized her flattened straw technique. Instead of simply inlaying on flat surfaces, she now could press the straw onto strips of tape and make long ribbons which she cut into various forms. She started making geometric snowflake designs, also hung on Christmas trees. These "snowflake" (applique) cut-outs were never previously made in Lithuania, though the patterns were reminiscent of carved traditional ornamentation on large wayside crosses and traditional textile patterning. In addition to the ornaments, Ursula developed this unique, flat-straw technique into larger compositions mounted on velvet (paintings). She also continued to employ the traditional techniques to create birds, mobiles and braided balls.
Although Ursula was busy as a homemaker, she made opportunities to exhibit her straw and egg art. Beginning in 1955, the Grand Rapids Art Gallery recognized her talent from her braided Christmas Manger.
During the 1960s, she exhibited her straw applique works in:
Battle Creek, MI – Ethnic Festival
Chicago – Balzekas Museum of Lithuanian Culture (also Annual Easter Egg Decorating Workshops since 1967), Lithuanian Youth Center, Loyola University, Public Library, Zapolis Christmas Ornament Exhibit
Detroit – Public Museum, United Nations Festival
In the 1970s, she expanded her art shows to Cleveland and was featured at the Curlionis Gallery Opening in Chicago. In 1976, her straw picture, Daisies (Ramunes), was selected for the Talman Bank calendar in Chicago, dedicated to the US bicentennial.
In 1989, 1992 and 1994, she had her own dedicated art shows at the Balzekas Museum. In 1996, she began displaying Christmas ornaments at Frederick Meijer Gardens in Grand Rapids. Today, her son, Don Astras maintains the ornaments and adds to the collection.
Throughout the years, Ursula and her family have taught how to make these ornaments locally in Michigan, as well as locations diverse as Hawaii, Pennsylvania, Vermont, and California. Their workshop venues have included Lithuanian summer camps, universities, the California Academy of Science and the Library of Congress. Also, they conducted Easter egg decorating workshops at the Balzekas Museum for 37 years, where Ursula held the position of Director of Folk Art for many years.
After her death, her family sent many of her works to Vilkaviskio Krasto Muziejus in Lithuania.
Ursula Astras' work and exhibitions have been extensively featured in the Chicago Daily News, the Chicago Sun Times, the Chicago Tribune, the Folklife Center News (Library of Congress), the Grand Rapids Press and the Lithuanian daily, Draugas, as well as Lithuanian Heritage and Bridges: Lithuanian-American Journal magazines. She was televised in Grand Rapids, Kalamazoo and Chicago; and was interviewed for Voice of America.
See how she transformed Lithuanian folk art into fine art in her portfolio.
Bio
Born:
10/16/1912
Location:
Vilkaviskis, Lithuania
Died:
01/28/2008
Age:
95
Specialties:
Lithuanian Straw and Egg Art
Nationality:
Lithuanian-American
Expertise:
Straw Applique (pictures and Christmas ornaments)
Etched Easter Eggs (marguciai)
Fun Facts
Ursula was the youngest of six surviving siblings.
Ursula believed her art should be available to all buyers and offered payment terms and discounts.
Throughout her life, Ursula especially enjoyed when young children would become enamored watching her create the delicate handiwork in straw or on eggs.
Related Artists
Don Astras
Alberta Astras (Singh)
Mary Astras (Currier)
References
Straw: Bridges: Lithuanian-American News Journal November/December 2015 Pages 3-4; Folklife Center News, Elena Bradunas – Volumes 6-9 – Pages 18-19
Eggs: Balzekas Museum Women's Guild; Draugas: Velykiniai margučiai, užtikrinantys saugmą, Apr 23, 2011
Free download of Bridges article
You can now download 'Ursula Astras, Lady of Wheat', the feature article that appeared in the November/December 2015 issue of Bridges: Lithuanian-American News Journal.